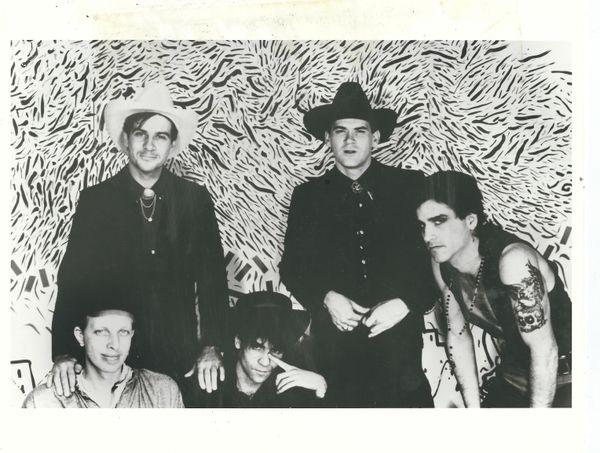 Wall of Voodoo 1984
London
Uncredited 
Just off the plane from LA.,we are about to start The Lords of the New Church/Wall of Voodoo Tour. We had spent the year carving a new band from the old.  In this photo, we are untested. Still somewhat strangers. We are without a record deal. Sammystown was a long, frustrating year away. 

We are dark horses. Extremely dark. Audaciously, we book a tour of the UK, where the original Voodoo was beloved .

Although Marc seems proud, parental, and protective, I am hidden. Vulnerable. Vigilant. I subconsciously do the nose-tap-Charades gesture for you-guessed right : Me. Andy Prieboy. I am the new singer.  

I knew it would be tough : the hour of battle was now upon me. 

After this shoot, Chas and Marc would go off to be interviewed. The old Wall of Voodoo introducing the new. You can see from this photo that they are guiding this ship. 


During this time, I would listen to Bruce,Marc and Chas tell old stories and/or gripe about the previous band. Their early days. The old struggles. The success. The fall. They were seasoned pros who had seen and done and accomplished so much.

I wondered if one day we would ever reminisce like that.
 
Sitting there on an apple crate,  I couldn't imagine it.

Wall of Voodoo 1986
Australia.
Uncredited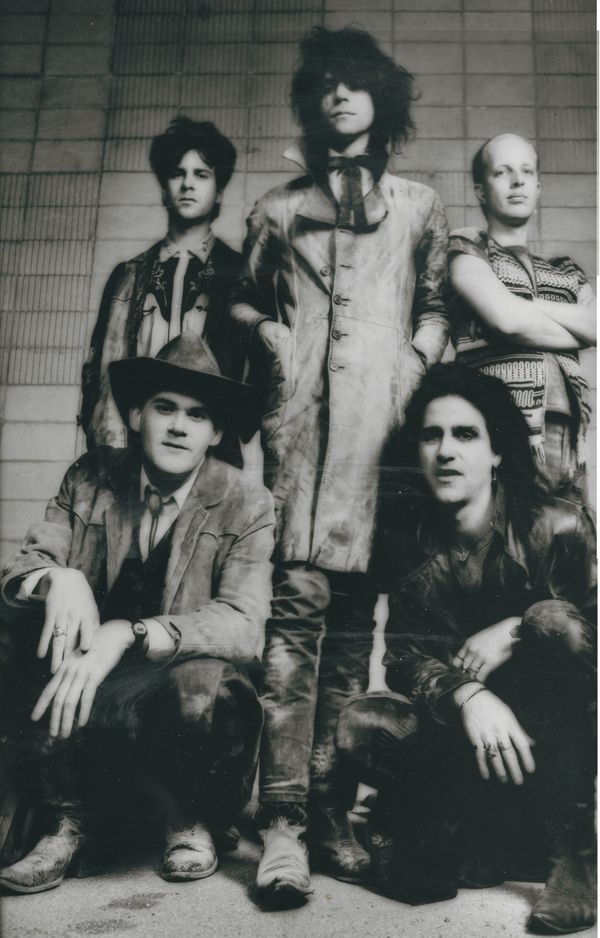 Two and half years later. Taken, I believe, in Australia just before we went on stage.
 
It would be a painful,hilarious, slanderous, X-rated autobio if I ever wrote what transpired between the first photo and this one.

Promoting Seven Days in Sammystown, we had crossed The States, Europe, Scandinavia, and, flying through the Chernobyl cloud, came at last to Australia. 
Our song, 'Far Side of Crazy', was in the Australian Top Ten. We had been on the road seemingly for ever, playing every night.Traveling thousands and thousands of miles. Thus, this is a portrait of a band that had faced down a great deal of opposition and doubt. A band that had done an enormous amount of work, and did so fully committed to one another. A portrait of five guys who are exhausted, in some cases ill. A perfect moment to take a picture :on the other side of that wall, an expectant audience waited. There is a show to do and we face it relaxed, controlled and confident. 

We had survived. In many ways succeeded in spite of those who said we couldn't, wouldn't and shouldn't. 

We were now more than a band. We were a brotherhood. A bond that lasts to this day. I had come along way from that first timid photo in London. There would be another five years of this madness.
So, yes, even at this point, were were quite able to reminisce .