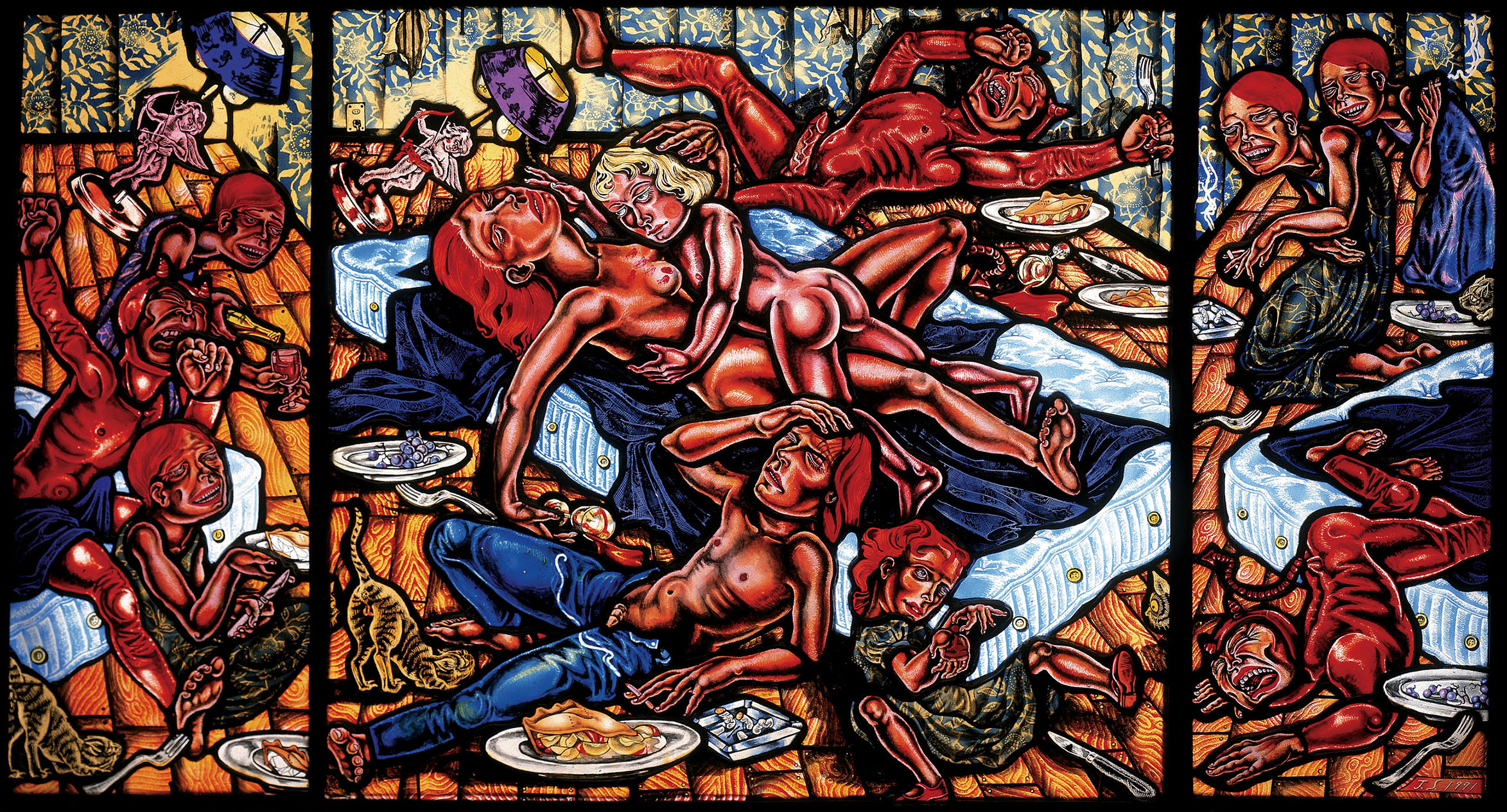 Virtue Triumphs When the Devil Sleeps  By Judy Schaechter 

Listen to VIRTUE TRIUMPHS
LOST AND FOUND!  
While  digitizing hundreds   of  old cassettes, I have been able to reconstruct my long lost, unfinished  album: Virtue Triumphs. Started soon after the 1990 release of Upon My Wicked Son, this  collection was ultimately caught in the cross-fire of a corporate war and never finished. Until now, these tracks have been sitting in storage .  
I am very happy to finally bring them to light.  
About the Collection:1990-1992  
 Virtue Triumphs was my  first body of work that was not beholden to Wall of Voodoo.   Crawling out from the wreckage of  a tumultuous decade, the record begins with the  grim side-show recitative I've included here  . It proposes that  human beings  are ethical only when chance gives them no other options.  
"Oh sweet Salvation, we avoid temptation 
   When temptation avoids us!" 
As I said, for me ,  the eighties were tumultuous... 
Though the album does not follow a direct narrative, the song's characters  wade through   themes like obsession, belligerence, guilt, and addiction. Eventually remorse and empathy come into play,   leading to a search for grace and renewal.   
Well, that was the plan, at any rate. 

When the fucking corporate  axe fell this work was caught under the blade and left behind.  I was devastated for years.  So much for fucking grace and renewal.*  These cassettes with their  rough mixes and sketches were all that remained. Where the master tapes are today , I have no idea.  
 
1995's Sins of Our Fathers included a few of these songs but  on Virtue Triumphs you will hear the original versions ,  done when they were new,  unexplored, and in some  cases, unfinished.    
There are also quite a few songs included  that have never been released ...
Musical Personae  
Twenty seven years later , I am still moved by the performances of the  musicians on Virtue Triumphs.   Frank Zappa's bassist ,  Scott Thunes ,  is astonishing  on songs like Love Won't Be Here Tonight, Tell Me River and You Got to Go Up.  Singer Cassie Webb creates an incredible one woman choir on When The Heart Awakes . Together, Scott and Cassie construct  an  eerie ,  beautiful background on Honey, Don't Be Good to Me, which started life as an old Eye Protection song from 1978.   
 Also, appearances by Grammy winning  songwriter and producer  Jeff Trott and  Zappa Alumnus , guitar and keyboard  master  Mike Keneally . 
At Present: 
I am very busy writing up the lyrics sheets and doing the art work. I aim to have this ready for release by early November.  
 I am thrilled to be able to share it with you soon.

(*See 'Who Do You Think We're Coming For" on Sins of our Fathers)